Experience St. Thomas in a way that is different from just drinking cocktails on the beach.
There's no much more than beaches and rum drinks. It's about exploration, thought, education, and experience. out local guides have the knowledge and passion to make sure that your visit leaves you with understanding all while having a great time too!
So let our band of merry rogues take you on a fun, interesting, and unique walking tour here in St. Thomas, Virgin Islands.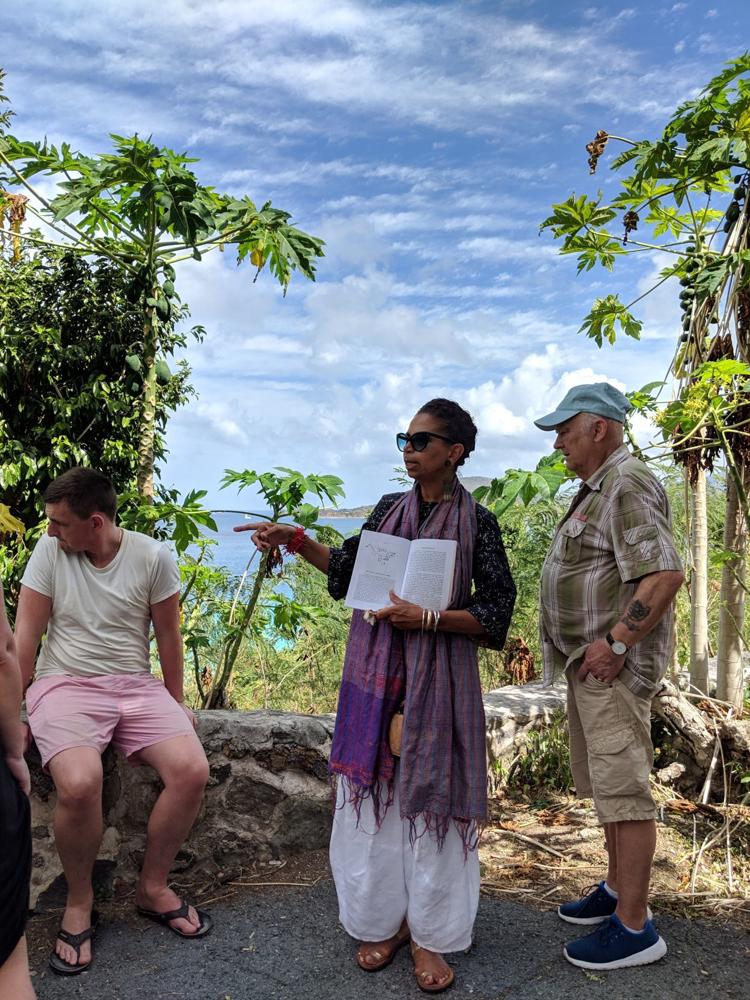 Anna Monica
While the Virgin Islands is well known for its abounding beauty, the islands have much more to offer than what meets the eye. Virgin Islander Anna Monica Villa brings a unique perspective to connecting visitors with the islands' culture and history.
For about 250 years, the Virgin Islands was under Danish colonial rule, a history that continues to foster ties between Denmark and the territory today. These historical connections have made the Virgin Islands an attractive destination for Danes who come to the islands in search of their country's history.
Anna Monica's official title of "tour guide" with Stjernegaard Rejser, a Danish travel company, belies the comprehensive, immersive experience she gives to her guests. A native of St. Croix, Anna Monica was living on St. Thomas in the 1980s when she met A Danish man who would become her husband. The couple moved to Denmark where she embraced Danish culture with open arms, learned the language, and fully immersed herself. In 2008, Anna Monica returned to St. Thomas to help care for her ailing mother and through a series of events she calls "serendipitous," the opportunity arose for her to combine her unique knowledge of Denmark and the Virgin Islands as a historical tour guide for Stjernegaard Rejser.
Drawing on the oral histories and knowledge of the Virgin Islanders who were a part of her upbringing, Anna Monica gradually supplemented her tours with insight she gained while reviewing historical accounts written in Danish, attending lectures by Danish historians and architects, and engaging in conversation with people interested in the Virgin Islands and the territory's history. Anna Monica says it's the stories that were never written, but rather passed down by word of mouth from generation to generation, that fascinate her the most. She seeks out the overlap between oral history, which is often full of emotion, and the written record, which is full of detail. It's this combination of heartfelt personal accounts and factual historic details, of Virgin Islands history entertwined with a Danish perspective, that makes Anna Monica's tours uniquely relevant. West Indian culture and the island's flora and fauna also influence Anna Monica's tours. Her guests commend her for the small touches that add so much to their island experience, like the opportunity to try curried goat at Gladys' Café or hibiscus tea at E's Garden Tea House.
Anna Monica offers two distinct tours on St. Thomas—one around the island, and one through the historic district of Charlotte Amalie. The tour through town starts outside of Fort Christian, constructed in 1672, and includes visits to attractions like 99 Steps. Anna Monica includes contemporary features of the island as well, like a stop at My Brother's Workshop, an organization that mentors at-risk youth, giving her guests the opportunity to experience positive change that's occurring in the territory. She's always on the hunt for ways to further enrich her tours, like when folk dancers came to visit and Emancipation Gardens became the venue for "dancing with the Danes."
Present-day tourists are making more and more of an effort to seek out authentic experiences, and Anna Monica's unique background lends her tours a kind of unprecedented legitimacy. In the future, Anna Monica says she looks forward to growing her tours to incorporate even more aspects of local culture, like agriculture and dance.
"The past is interesting in helping us understand what a truly fascinating place the Virgin Islands is, but our interpretation of the past is so important in helping us to chart the future," she says.
Michael
I started my vacation 13 years ago and since then, it's become my home. I met an island girl, got married, and after an indeterminate number of rum drinks, we woke up one day and had 4 kids.
Our family lives and breathes island life and I'd love nothing more than to share my island adventure and to take you on a journey through time.
Save 30% off the cost of any walking tour when you book  online by July 1st, 2021. Discount automatically applied at booking.